Mar 23, 2023 | 25th Anniversary Spring Student Festival hosted
Annual students' talent festival SurGU Style Spring was hosted in the University theater for 25th time, with hundreds of viewers of audience being present at the gala on March 23.
Gala featured the best performances presented on stage. From vocal performance to fashion design show – students proved they can be creative in all senses. Best performances were awarded with valuable prizes, alongside with works featured in non-scenic nominations, such as video, art and media.
The first SurGU Style Spring was hosted in the University in 1998, and since then over 16,000 students took part in the festival. Many participants and winners later found themselves in show industry, on the big stage and national TV shows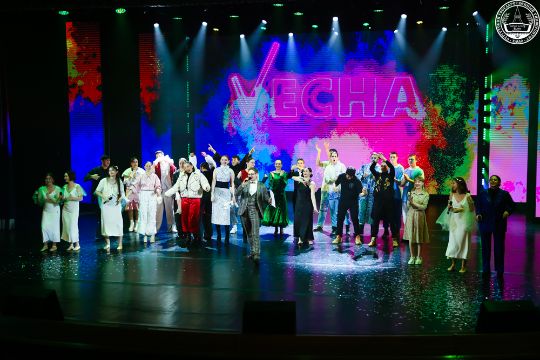 Mar 17, 2023 | Institute of Economy and Management hosts Open Day
Surgut State University's Institute of Economy and Management hosted an Open Day for school students of grades 9 to 11. Guests were invited to take part in a quest, during which they would learn about the Institute and its education programs.
Each of the seven stages of the quest presented its own educational program. Potential enrollees would solve logical puzzles and ethical tasks, breaking codes and resolving a modeled conflict. They also were told about the opportunities University grants to its students. The Open Day concluded with a tea party where guests were able to ask their questions to the head of the Institute of Economy and Management.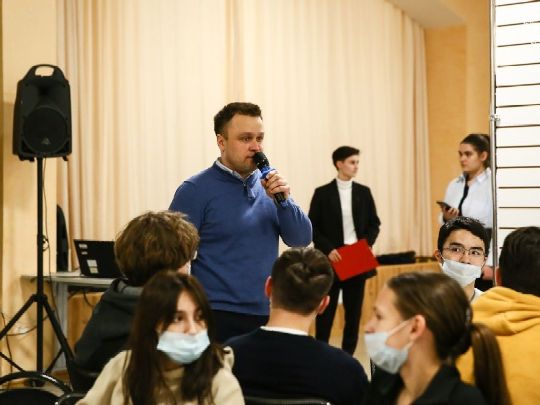 Mar 10, 2023 | Miss SurGU 2023 contest held, winner defined
Annual contest of intelligence, beauty, elegance and sport Miss SurGU 2023 (also Beauty of SurGU 2023) was held in Surgut State University, witnessing eight participants competing for the title. Young ladies were challenged to not only partake in sportive and artistic competitions, but also to showcase their wits, intelligence and modeling skills, as one of the challenges was set around the gown design.
The main prize and the title of Miss SurGU 2023 went to Polina Andreyeva, student of the Institute of State and Law. Angelina Semenkova from Institute of Humanities and Sport was nominated as Vice Miss SurGU 2023 (runner-up). Online voting was won by Anastasiya Yegorova from Institute of Economy and Management. All winners and participants were rewarded with valuable prizes.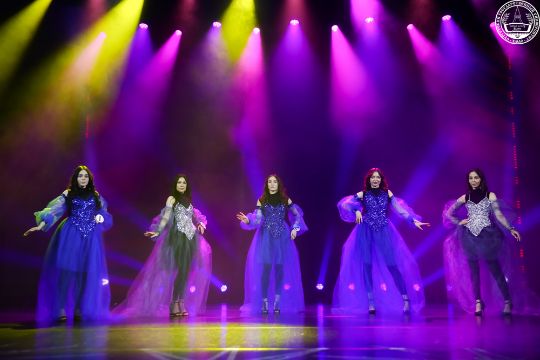 Mar 8, 2023 | Happy International Women's Day!
We heartily wish all ladies of the University a happy International Women's Day!
We at Surgut State University are proud of success and achievements of our talented and ambitious female students, who can easily turn ideas into bright events and fruitful projects. Our glorious ladies within the staff, professors and scientists included, build the creative atmosphere necessary for the youth's education and successfully resolve all the tasks aimed at higher education improvement. All this is possible thanks to their operational mindset.
We wish all our women good health and high spirits, happiness and inspiration. May the International Women's Day bring pleasant impressions and memorable moments!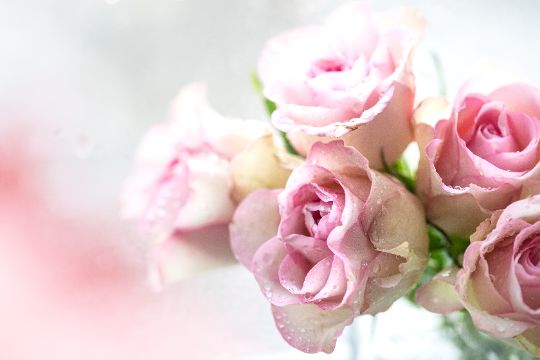 Mar 1, 2023 | Mister SurGU 2023 defined
Surgut Univesity Theater held the annual contest of courage and talent Mister SurGU 2023, with seven participants competing for the title. Young men showcased not only their achievements in sports, but also intelligence, wits and artistic talents, performing on stage and answering the jury's questions.
The main prize and the title of Mister SurGU 2023 were awarded to Vladislav Apokin, student of the Institute of Humanities and Sport. Andrei Sidenko from Institute of Nature and Technical Sciences was nominated as Vice Mister SurGU 2023 (runner-up). Online voting was won by Elmurza Kalabzarov, also from Institute of Nature and Technical Sciences. All winners and participants were rewarded with valuable prizes.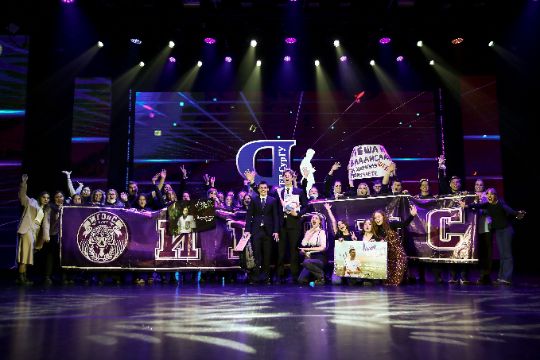 Feb 25, 2023 | Conference on Hygiene Held in SurGU
February 25 saw medical students and specialists gathering to discuss methodology and discoveries in the field of hygiene. Guests were introduced to the reports on history of hygienic science both in the world and in Russia. The basis of Russian hygienistics was laid by a famed Soviet researcher Galina Serdyukovskaya (1921 – 2004), Doctor of Medicine and USSR Academy of Medical Science member. Hygienic knowledge, as emphasized by SurGU Medical Instiute assistant professor Viktoria Pavlovskaya, is important to prevent the devastating pandemics, as hygiene and history often walk together. 
Hygiene as a preventive medical discipline began developing in the ancient times, and would evolve within the course of history, suggesting more and more advanced methods of diseases prevention and environment management, which helps keep a person healthy. Many countries implement hygienic research in their legal documents and laws accordingly. The first documented experience of implementing hygienic standards dates back to Ancient India, where the first laws on hygiene were included in the Manu code of laws.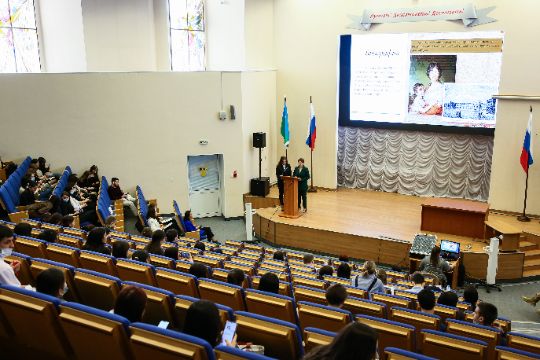 Feb 21, 2023 | Hereditary diseases discussed in Surgut University
A conference on hereditary lung diseases was held in Surgut State University on Fbruary 16 to 18, supported by Khanty-Mansi Autonomous Okrug - Ugra Healthcare Department and other regional and national organizations. Major attention was paid to cystic fibrosis and other hereditary lung diseases.
Three-day conference featured symposiums and roundtable sessions for participants, as well as individual medical consultations for patients with cystic fibrosis. During the sessions, new methods of diagnostics were analyzed, and suggested for national-wide use, as cystic fibrosis, if not diagnosed in time, and with no therapy administered, can be highly lethal. 
Feb 8, 2023 | Happy Russian National Science Day!
Every year on February 8, Surgut State University celebrates Russian National Science Day to mark the significance of science in our lives and to acknowledge the achievements of scholars.
Program of the day included the job fair attended by representatives of enterprises in the fields of fuel and power industry, media, transportation and public sector. The Boiling Point (Tochka Kipenya) business space hosted a number of lectures on business and projects run by University.
The most important part of the celebration was the Ball of Science, held within the atrium of the Scientific Library. The Ball of Science is a traditional solemn event held annually on the Science Day, which also concludes the celebration. At the start of the dance party, young ladies and gentlemen were offered the etiquette master class, after which eight couples would compete for the title of the Ball's King and Queen. This very title was given to Nadezhda Obukhova and Sergei Obukhov, both are professors of physical education. 
At the conclusion of the event, as per tradition, three wishes made by participating students before the Ball start were drawn by the Rector Sergei Kosenok to be later fulfilled. These were: a photo of the Rector together with a students' group (wished by Anastasiya Yegorova), summer vacation with top 20 best students (wished by Yevgeny Mikhailov), and Sherbek Rustamov wished good luck and health to all the guests.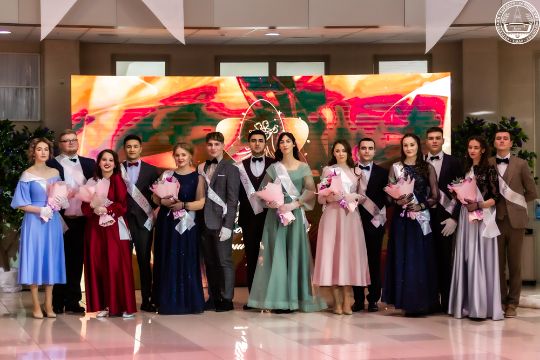 Jan 30, 2023 | Indian Embassy Minister of Education visited SurGU
On January 30, 2023, Surgut State University was officially visited by a mission from India, led by the Indian Embassy in Russia Minister of Education Shri Subrata Das and MediCare Global Education director Jitendra Kumar.
During the visit, Shri Subrata Das met with Oleg Meling, Vice Head of International Cooperation Department for the Khanty-Mansi Autonomous Okrug – Ugra Public and External Relations and Youth Politics Department, as well as Surgut State University higher management. Topics under discussion included diplomatic cooperation and scientific exchange between Russia and India. Sergei Kosenok, the Rector of Surgut State University, acknowledged the necessity of setting and achieving the virtuous goals, such as training new medical specialists. Director of Medical Institute Lyudmila Kovalenko who marked the extensive opportunities for medical education of foreign students. According to her words, the foreign students "contribute to the future of Russia and India".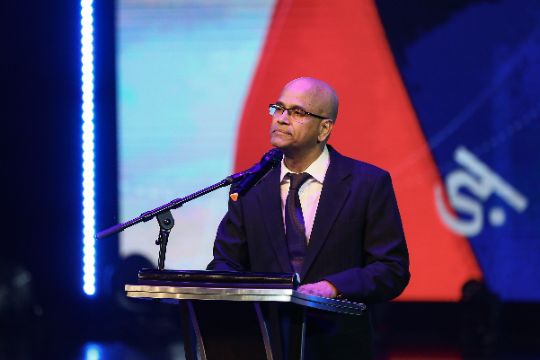 Jan 27, 2023 | Tabletop Games Festival
The last Friday of January 2023 saw the Grand Tabletop Games Festival Fishka take place in the university. Over 30 students gathered to have fun and play eight different tabletop games together under the supervision of experienced game practitioners. Eight different tabletop games were provided, including Mafia, Codenames, Imaginarium and many more.
The festival was divided into two rounds, with a coffee break in between. At the end of each play round the winners would be awarded with tokens, which then could be exchanged for various merch insigned with SurGU's 30th Anniversary logo, such as USB drives, notebooks, pens and more.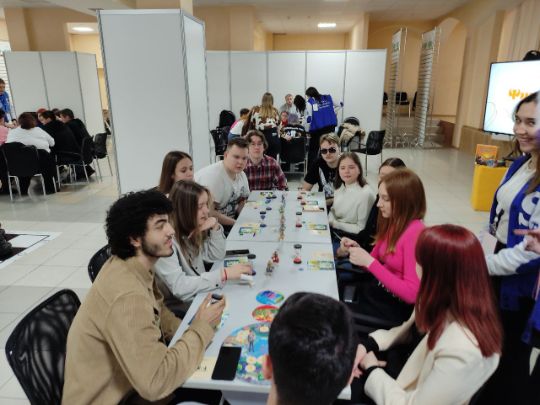 Jan 26, 2023 | Republic Day of India celebrated in SurGU
A grand festival was held within the university walls on January 26. All students from India came together to celebrate the Republic Day, India's national holiday.
This year, the Republic Day is celebrated for the 74th time. The day of January 26 was set as a holiday to mark the adoption of the Constitution of India, which was adopted on January 26, 1950. Here, away from home, Indian students have come together for a festival. The program started with a history of the Republic Day, followed by patriotic songs and folk dances performed by the students.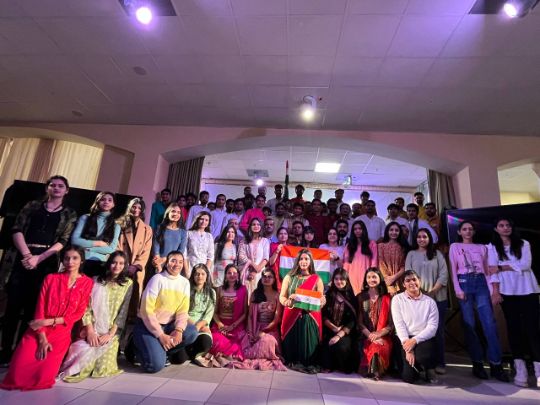 Jan 25, 2023 | Surgut University Celebrates Students' Day
The Students' Day is celebrated in Russia nationwide every year on January 25. Surgut State University is no exception to this tradition. The celebration started with  featured a number of events to mark the significance of the day. Right in the lobby, every student entering the university were treated to a warm fenberry tea.
One such event was Tea with a Rector. There, the Rector of Surgut State University Sergei Kosenok and the university's Vice Rectors have gathered at a table with the most active students to acknowledge their achievements and to discuss the latest questions. All students were wished good luck and success during their studies and exams.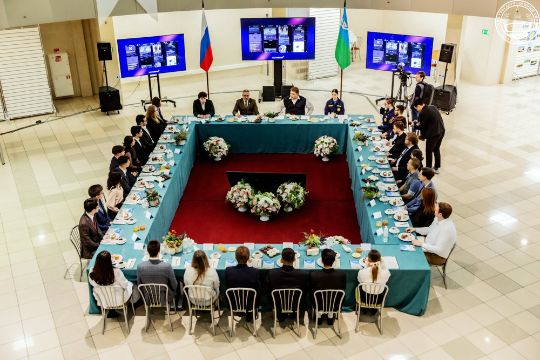 Jan 23, 2023 | Esports Tournament in SurGU
To celebrate the Day of Russian Students, Surgut State University hosted an esports tournament within its walls. Three most poular competitive console games, FIFA '22, UFC 4 and Mortal Kombat X were chosen by the tournament hosts, and the event itself saw over 40 participants willing to compete and show off their skill. Each discipline was presented as a "best-of-1" competition ladder, with only one winner in each. Winners were awarded with gaming headsets as prizes, and the amount of fun was rather overwhelming. It is important to note that in November 2022 SurGU hosted another tournament, this time it was centered around Counter-Strike: Global Offensive, a team-based tactical first-person shooter. Tournament hosts believe that our university may become a platform for new esports stars to rise and shine.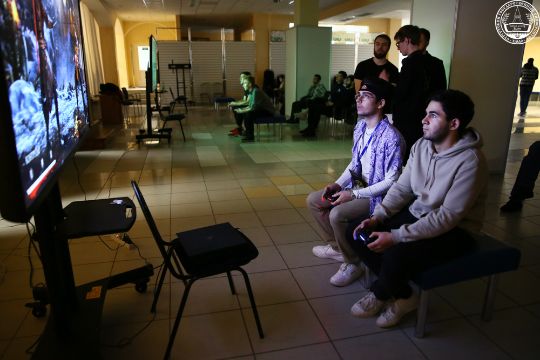 Dec 29, 2022 | SurGU Brings New Year Miracles
On December 29, 2022, SurGU students and Youth Initiatives Department employees packed and distributed sweet gifts. Out of 64 sweet gifts, 15 were given to Aprel Kids and Family Supportive Center. Apart from that, students and employees presented an entertainment program for the children fostered in the Center. The remaining gifts were distributed to Surgut Geriatric Center and to the children of conscripts.
All students who took part in the event were awarded with the SurGU's Father Frost badges, which marks their contribution in delivery of the New Year miracle to the families of the city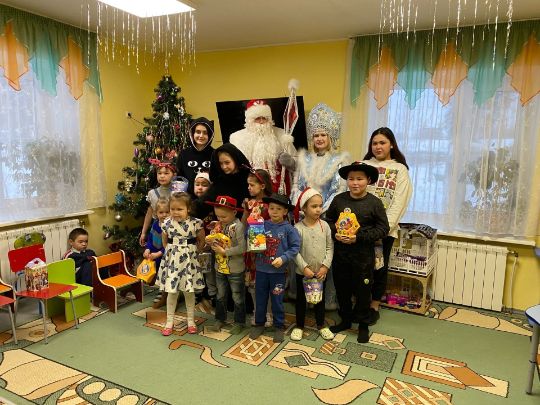 Dec 24, 2022 | Open Day in Surgut State University
December 24, 2022 saw one of the most significant and grandiose events in the University's life, that being the Open Day. For the first time in two years the event was held offline, having over 300 visitors from different schools of Surgut and Surgut Area. All six institutes, as well as Medical College, were presented at the event, aimed at promoting the Surgut State University to the potential enrollees. Guests would take part in contests and activities organized by the institutes' representatives, as well as get introduced to their prospective tutors and meet new people brought together.
Should you get interested in enrollment, visit go.sugru.ru to find out more about our programs or see the respective sections on this website.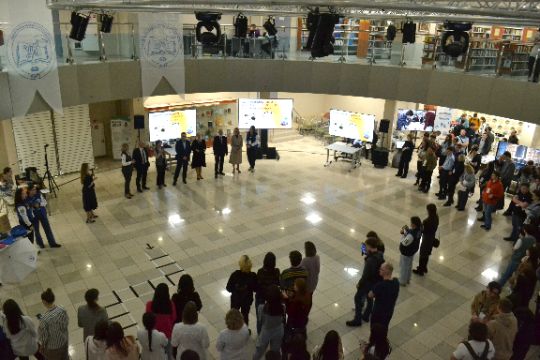 Dec 9, 2022 | Best Academic Group Defined
On December 9, 2022 Surgut State University Theater hosted the annual 2022 Best Academic Group contest. Six groups from four institutes and Medical College competed, alongside with their curators. Participants presented their artistic performances, while their curators showed off their video presentations and took the "curator exam" as part of 2022 Best Curator contest. The winner of this contest is Lesya Ganeyeva, the curator of Group # 213-01 from the Institute of Humanities and Sport. The 2022 Best Academic Group title was awarded to Group # 402-92 from the Institute of Economy and Management. The group won a grand prix of the contest, that being a one-week tour to Saint Petersburg.