Sep 14-15, 2023 | National Technological Initiative training
Surgut State University hosted a two-day intensive training for first-year students in collaboration with High Technology Park of Ugra, a non-profit organization dedicated to accelerating startups and supporting tech projects. The training took place September 14 to 15. During the event, students would participate in interactive lectures, brainstorms and business games to learn the basics of startup project creation and development. Lectures touched upon the National Technologic Initiative's markets, business models, monetization, copyright and roadmap design. Students also were able to find out about Ugra Governor's Grant which can serve as a valuable investment in a project development. During the business games, students had a chance to consult with business experts, all the High Technology Park residents, to get feedback on projects' stronger and weaker sides
Sep 11, 2023 | Tech Start-Up Accelerator Launched
Four-month business acceleration program Tochka otshcheta. Tekhno (Starting Point. Techno) was launched in Surgut State University on September 11. Within following months students will develop their socially significant start-up projects, participate in traction meetings with their trackers assisting and guiding them throughout the entire start-yp development process. The projects must fit into one of three National Technological Initiative markets (HealthNet, TechNet, EduNet) best of which will gain funding from industrial partners for their developments. The final presentation would take place on December 7, 2023.

Sep 3, 2023 | Annual Tourist Rally for First-Year Students
Traditional tourist rally for the first-year students of Surgut State University was held on September 3 within Valikas camp site, with hundreds of freshman-year students from all institutes and Medical College gathering in one area to compete and complete various sportive, creative and intellectual challenges. Curated by the former SurGU graduates, they learned to set up camps, prepared the picnic, and all this within the entourage of Soviet era Pioneers summer camp, thus experiencing yet another level of generations' tight connection and generational inheritance.
The most intense and funny activity was Agiotage quest. Featuring 10 random tasks of varying difficulty, it put freshman students to the ultimate test of creativity, wits and agility, all within the two hours limit. However, the climactic event was the giant campfire, the symbol of unity and friendship. The tourist rally lasted for the entire day of September 3. Institute of Nature and Technical Science team was awarded with a challenge cup and Tourist Rally 2023 Best Team title.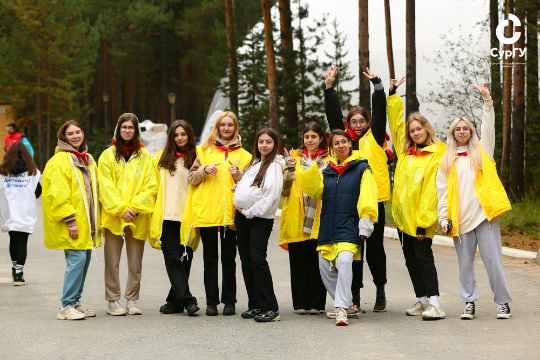 Sep 1, 2023 | Happy Knowledge Day!
Dear colleagues, students, employees, graduates and veterans of Surgut State University,
Happy Knowledge Day!
This glorious holiday not only marks the beginning of an academic year, but also marks our continuous aspiration to new knowledge, development and self-improvement.
It is essential to feel the power of knowledge on this day, and understand that knowledge is a key to success, as the academic year commencing today opens up broad horizons of opportunities.
The University's community is our big and friendly family, as well as an efficient team! I'm grateful to each and everyone of you for your contribution in improvement of both the University and the best traditions of national education system, for strengthening our corporate values such as professionalism, cooperation, unity, labor motivation, continuity, ability to set and reach the goals.
The Year of Educators and Mentors sees the utmost attention dedicated to you, dear professors! Your contribution in shaping world's future is noteworthy and significant.
We express our gratitude and acknowledgement to everyone filling our lives with profound knowledge, helps gain key skills and invaluable experience.
Dear students! May all the knowledge you get within the walls of our University lay a strong foundation for your further professional and personal growth!
I wish all of you good health, success, inspiration and good luck! 
Best regards, 
Sergei Kosenok, Surgut State University rector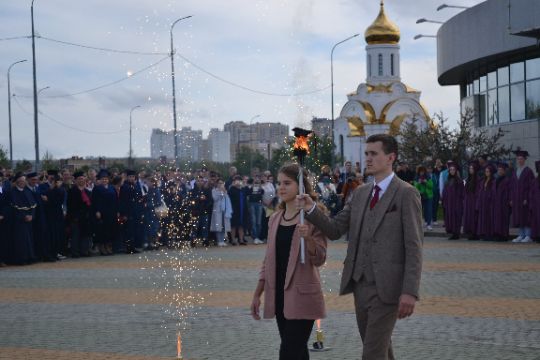 Aug 22, 2023 | RUSSIAN NATIONAL FLAG DAY
August 22 is celebrated nationwide as the Russian National Flag Day. Set in 1994, this day is meant to honor the country's main symbol - the flag that unites people of all generations, ethnicities, religions and backgrounds. University celebrated it with a solemn gathering, in which SurGU employees and students, as well as VIP guests and Surgut citizens took part.
The celebration was opened with a solemn raise of the flags of Russia, Khanty-Mansi Autonomous Okrug - Ugra and Surgut State University. Ceremonial speeches were given by SurGU Vice Rector Yelena Konovalova, Surgut City and Surgut Diistrict draft officer Andrei Kalyadin and SurGU Student Council President Danila Prozherin. The ceremony then continued with a flashmob dance performed by the students.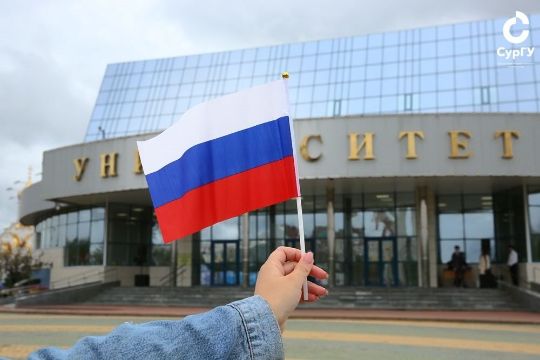 Aug 20 - 31, 2023 | EKAT2023 University International Sports Festival
Surgut State University team is taking part in EKAT2023 University International Sports Festival in Yekaterinburg, Russia. Over 10 disciplines have been put out to the contest, with participants from BRICS, CIS and SCO countries competing against each other. Surgut State University is presented by seven participants from three institutes
Institute of Humanities and Sport: 

Alisa Kotova, Vladimir Gorbunov, Darya Nuyanzina

Institute of Nature and Technical Sciences:

Dmitry Gnitetsky, Artyom Zaretsky

Polytechnical Institute:

Nikita Zaretsky, Ivan Khitun
All of them will compete in swimming on different distances. We wish them good luck and victory in the tournament!
Aug 15, 2023 | Best SUrGU Students in Altai Mountains
Group of Surgut State University's outstanding students have visited Altai Mountains. Tourist group led by Svyatoslav Bolotov, Vice Rector for Youth Policy, has departed on August 10, the tour itself will last until August 21.
The tour includes hike trips and horseback rides, Katun' river rafting, guided trips to various picturesque natural landmarks, a picnic in Kurai Steppe and many other activities. Students also had a chance of tasting the local cuisine and visiting the apiary. The tour itself is rich in activities, which will definitely leave lasting and pleasant impressions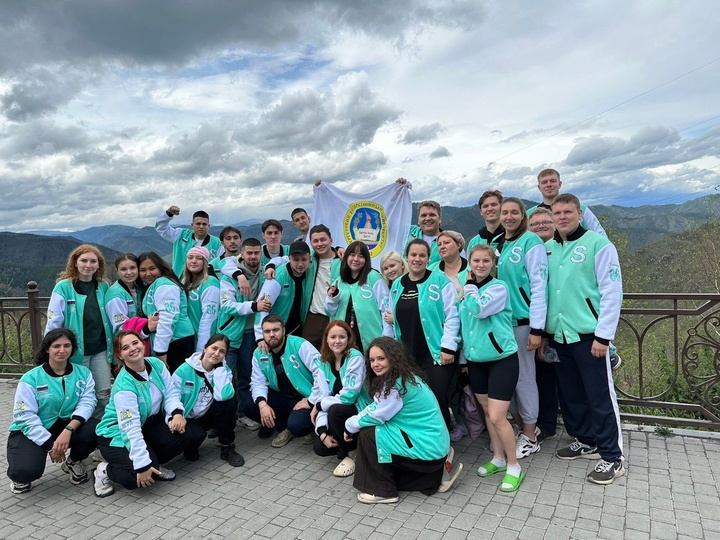 Aug 9, 2023 | SurGU to Create Indigenous Peoples Professional Education Institute
Surgut State University suggested the establishment of professional education institute for indigenous peoples of Khanty-Mansi Autonomous Okrug – Ugra. The concept involves assistance and guidance to children and young people throughout the entire education period, including professional education. As stated by Natalia Komarova, the Governor of Ugra, educational programs for 20 specializations are now in active development. The decision was made during the meeting of Ugra Governor with the council of elders of region's indigenous peoples. The meeting took place in Khanty-Mansiysk in Torum Maa Historical Museum

Photo by Ugra Social Media Center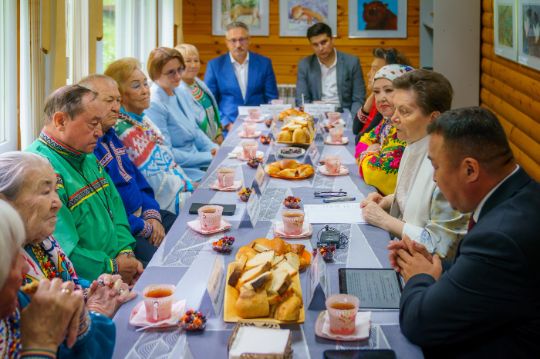 Aug 3, 2023 | Unity Park Scitech Center Approved by Federal Government
Foundation of Unity Park Innovative Scientific and Technological Center in Surgut was officially initiated. The respective decree was signed by the Prime Minister of Russia Mikhail Mishustin. Document defines main directions of the Center's operations. These include development of power security technologies, medical research and development of advanced materials and engineering solutions suitable for arctic conditions. Most scientific sites will be located in Surgut, with Surgut State University being the baseline organization.
Projects developed by the Center may involve both state-owned and private companies. Those who are ready to invest in the Center's development will be granted land and access to infrastructure on preferential terms. 
Jul 31, 2023 | Modern Markers of Gestational Diabetes Studied
Surgut State University's Medical Institute graduate student Laysan Khisamiyeva presented a research of diagnostic significance of glycemic markers during the gestational diabetes (GD). Research was curated by Head of Medical Institute's Midwifery, Gynecology and Perinatology department, President of Surgut Regional Maternity and Childhood Protection Center Larisa Belotserkovtseva and department's assistant professor Yelena Yerchenko.
In her paper, the student conducted a comparative analysis of various glycemic markers in GD diagnostics, pointing out effects and action of each. These markers can not only be useful in monitoring and preventing perinatal complications, but also in development of patient treatment tactic. Researcher states that there is also an interest in studying predictive valley and implementation of serum hyperglycemia biomarkers in practical healthcare.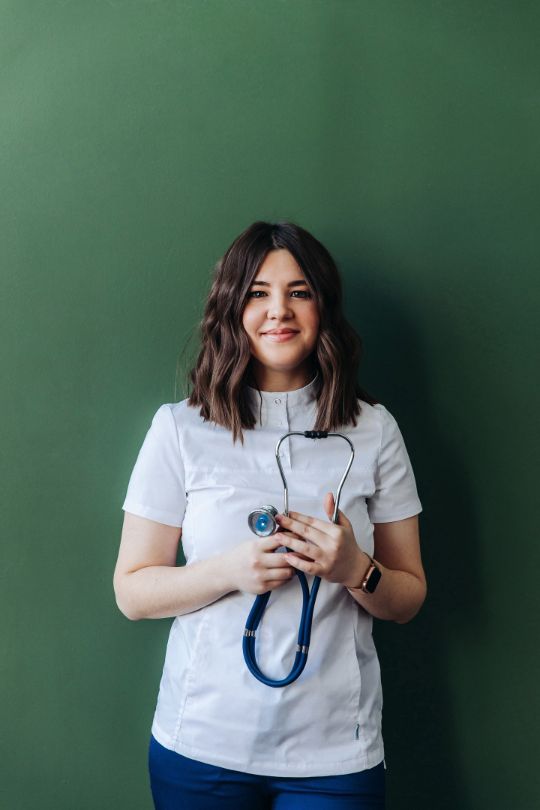 Jul 26, 2023 | Medical Institute Project Won HSE Contest
Collaborative project of Scientific and Educational Center of Surgut State University and Higher School of Economy's International Bioinformatics Lab has won the Mirror Lab contest run by HSE. Their project centers around the development and implementation of machine learning technology to predict the long-term consequences of acute coronary syndrome. It involves 10 specialists, both from Surgut State University and HSE.
The main objective of this project is the development of a technology capable of predicting unwanted long-term complications of myocardial infarction. To have it fully operational, however, an in-depth analysis of 10,000 patients treated for myocardial infarction in Surgut Cardiologic Center since 2010 is required, apart from the study of risk factor. As of now, only a small dataset is compiled, featuring the data for only 500 patients and the risk factors displayed by them.
The project is to be deployed from 2023 to 2025. After its approval and testing, the scientists plan to patent the technology and expand their experience to other regions of Russia.
July 4, 2023 | Over 100 Medical College graduates received diplomas
Solemn Diploma Award Ceremony was held in Surgut State University Theater to celebrate the graduation of 122 Medical College students, 27 of which have received the diplomas with honor. 70 graduates presented the Nursing program, with 15 of them earning honorary diplomas.
Apart from it, Yunus Salmanov, Surgut Ambulance Station's chief medical officer, called out to the graduates introducing them to job opportunities the Surgut Ambulance Station can offer. The ceremony concluded with all of the graduates passing through the Gate of Knowledge in front of SurGU's Main Building.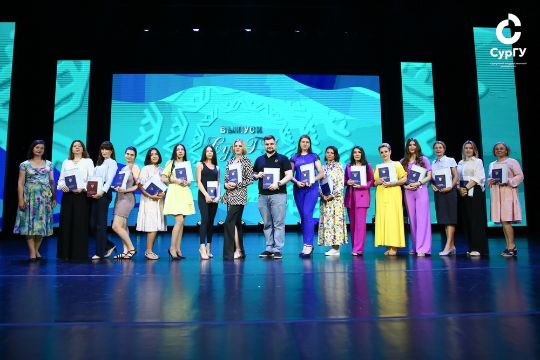 Jul 3, 2023 | Medical College Demo Exams
Previous week, June 26 to July 1, 2023 saw the Medical College conduct the demo exams. These exams were held within Professionals Russian championship movement's competitive format. 44 people in total were approved to take the exam, of which 20 were the second-year nursing students and 24 the third-year general medicine students.
All of the exam participants were to complete several tasks close to real medical practice cases, each task should be completed within four hours. The objective of this demo exam was to evaluate the students' ability to meet modern practical healthcare requirements. This format of validation is used by Medical College since 2022.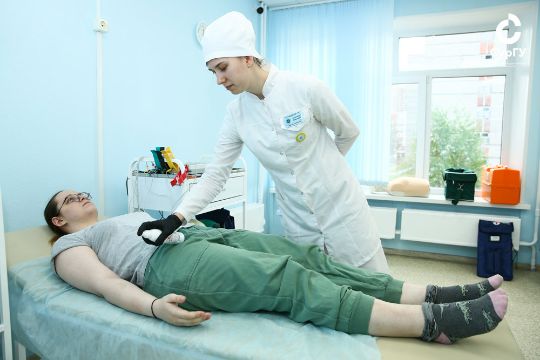 Jun 18, 2023 | Happy Medical Specialist Day!
Dear professors, employees and students of Surgut State University Medical University and Medical College,
Congratulations on your professional holiday!
Today is a wonderful reason to say the words of gratitude to all the medics for their daily deeds of saving people's lives and health, as well as their devotion to the Hippocrates' Oath.
Each ad every of us appreciates your selfless labor and knows you will always come to our aid. Thank you for your limitless devotion to the job, your responsibility and mercy!
The kindest wishes of prosperity I address to the academic staff. You make conditions for integration of revolutionary research, modern education and medical technology, thus providing the new quality of human life in the North.
According to the last year totals provided by Strategic Initiatives Agency, Ugra holds third place in the medical aid quality ratings, after Moscow and Saint Petersburg. The importance of your contribution in achievement of such high results of regional healthcare development is immense.
The construction of High Biomedical Technology Center has started in Surgut. The center will be part of Unity Park scientific and technological center project to be created in Surgut. I'd like to proudly acknowledge the fruitful results of our scientists' developments of its future research contents.
The goals completed during the implementation of projects included in Priority 2030 program are all noteworthy achievements. The Ugra-Gen medical consortium formed on the Surgut State University initiative and uniting cutting-edge educational organizations and innovative scientific centers.
Both the city and the nation rely on future medical professionals. Dear students and residents! Keep on improving your abilities! You possess a unique opportunity to learn from talented instructors, practicioner doctors who share their knowledge, ideas and invaluable experience. The University is proud of you! I'd like to specially note the generosity of medical volunteers. Wish you all as much power and energy as possible!
I wish all of you good health, high spirits and happiness! May all plans be fulfilled and new far-reaching goals be set!
Happy Medical Specialist Day!
Best regards,
Sergei Kosenok, Surgut State University Rector

May 31, 2023 | Best Graduate 2023 defined
Edmon Tunyan, Polytechnical Institute graduate studying information systems and technologies, was pronounced Best SurGU Graduate – 2023. Edmon is not only a student, but also a young entrepreneur, being a co-founder of EDRO Tekhnologii company.
Though young, Edmon is a very prominent young professional. Amongst his achievements are a number of mobile apps:CasTus, BioScan, Event Guid, AR Museum and HT Group. Edmon also is twice a winner of Ugra.Start scientific, technological. enterprisal, social and creative start-up projects festival. He also is twice a winner of grants from Innovation Assistance Fund for his projects.
As a prize, Edmon will also have a chance to go on a tour around Altai with 30 best students of Surgut State University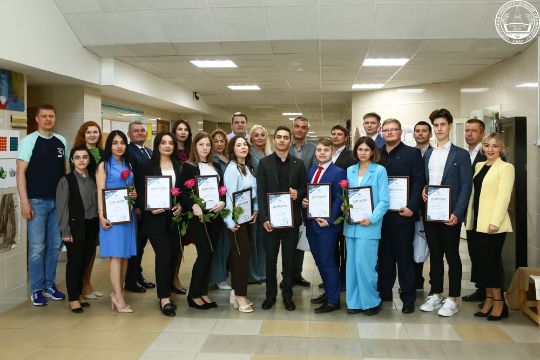 May 31, 2023 | Hard Work is "The Coolest Talent", Says SurGU Best Graduate 2016
Tarlan Isayev, Surgut State University Medical Institute graduate, and Best Graduate of 2016, is now a successful intensivist and transfusiologist working in Surgut Regional Clinic Maternity and Child Welfare Center. Years of hard work and studies have proven that this is the only right way to achieve success. Today, on May 31, when the Best Graduate 2023 will be defined, Tarlan Isayev shares his words of advice with future medical specialists of SurGU.
"Hard work is the coolest talent," says Tarlan. "There are principles you should stick to and develop for your personal and professional growth. So study hard, do science, manage your resources wisely and work in multi-task mode – this is how you'll get scientific and career achievements!"
May 30, 2023 | Medical College Students At National First Aid Contest Final
Medical College team featuringAngelina Kiseleva, Sofia Vasilenko, Rabadan Abdulmanalov and their mentor Oleg Rudenko has reached the final of Human Factor, Russian Nationwide First Aid and Psychological Support contest's student league. Competition was organized by EMERCOM Psychological Aid Center.
Competition included three stages. The first stage, theoretical one, featured a number of questions for participants to answer. Practical stage involved showcasing the first aid and psychological assistance skills in realisticly modeled situations. Third stage was for team captains only, as they had to present master classes in first aid to other people.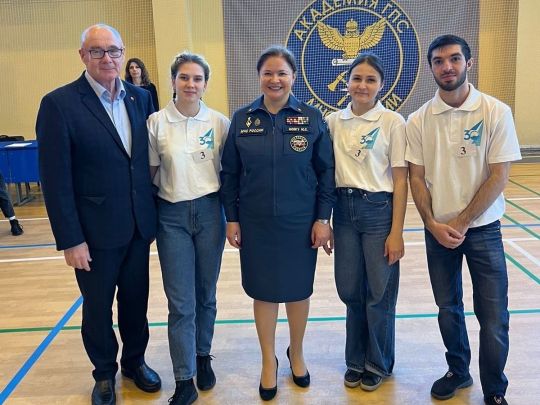 May 26, 2023 | 30th Anniversary Gala Night
Gala night dedicated to Surgut State University's 30th Anniversary was held in University Theater on May 26, the Anniversary day. The grand event was opened with Sergei Kosenok, SurGU Rector, recounting the history of the University and the people who first stood behind it in his opening speech.
During the gala night, the best of University's academic and administrative staff were awarded for their achievements in career, scientific, educational and social fields. The Honorary Professor title was awarded to Vladislav Ostreikovsky, Professor of Polytechnical Institute Informatics and Computation Department, and Economy Professor Alexander Groshev.
BadgesFor Merit to Ugra Higher School were awarded to:
Nadezhda Butenko, Assisted Professor of Philosophy and Law Department;
Oksana Ischenko, Professor of State, Municipal and Human Resources Management Department;
Pyotr Makarov, Assisted Professor of Biology and Biotechnology Department;
Viktoria Pavlovskaya, Assisted Professor of Morphology and Physiology Department;
Natalya Peshkova, Professor, Head of Physical Education Departmennt.
TheHonorary Doctor of Surgut State University title was awarded to 7th Convocation Khanty-Mansi Autonomous Okrug - Ugra Duma Deputy Chairman Natalya Zapadnova.
Irina Zhuravel, Professor of Institute of Humanities and Sport Professional and Supplemenrary Education Paedagogics Department, was included in the SurGU Book of Honor. 165 awards were given out in total.
The gala featured artistic performances by the students and graduates of the University, as well as pupils of SurGU's Children Talents Development Center.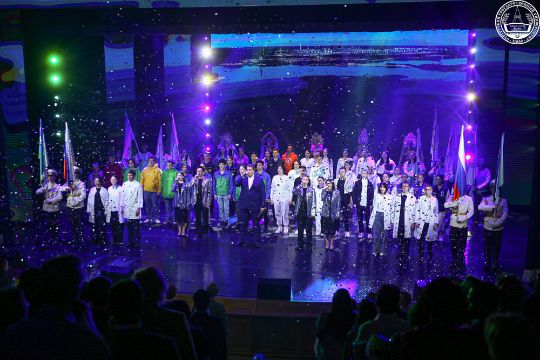 May 26, 2023 | Archeology and Marsh Paleoecology Consortium formed in SurGU
Roundtable session on formation of Archeology and Marsh Paleoecology (YUGRA_PaleoArch) consortium was held on May 26. Initiative to launch this project belongs to the head of SurGU Ugra Archeology and Ethnography Center Oleg Kardash and University's leading scientific specialist, director of Severnaya Arkheologiya-1 research and production association Georgy Vizgalov.
The consortium's objective is the reconstruction of human habitat paleoecologic conditions, from the earliest settlements to present days. Working group is up to modeling human life within the process of marsh ecosystems development in the region. The modeling would resort to detailed research of archeological heritage items recovered from the local marshes. Maps of contemporary and historical terrain relief, hydrologic networks and vegetation will be developed to reflect the historical reality the fullest.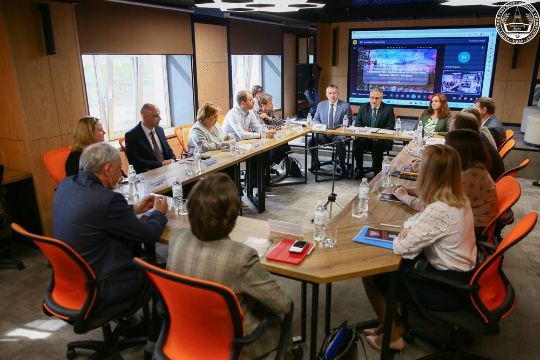 May 26, 2023 | Surgut State University celebrates 30th Anniversary!
Dear colleagues, employees, students, graduates and veterans of Surgut State University,
Happy 30th Anniversary of Surgut State University foundation!
Youth, optimism, aspiration for the future, participation in our rich, hospitable and generous region development – these very qualities of socially responsible university motivate us to achieve our ambitious goals!
The world is changing rapidly, education and science are always facing new global challenges that require extraordinary approaches to their solution. Thus, our objective is to constantly get ahead of events while modeling our future.
The university's team successfully deals with demands of today. We promptly respond to the requests from state and society. We have our own style.
Realizing that the university is one of the main state's instruments for ensuring the nation's technological leadership and equal part in global scientific process, we have joined the implementation of ambitious federal projects, such as world-class Western Siberian interregional scientific and educational center or strategic academic leadership program Priority 2030. These projects have let us strengthen our ability to collaborate in partnership, as well as become initiators of several consortiums formation. It is important to note that project management which has entered modern university life practice ensures swift and efficient resolution of many issues that arise in core areas.
I'd like to thank the academic and scientific staff, as well as everyone else who ensures comfortable and safe working conditions for our well-coordinated and laborous collective for outstanding results of their constructive activity, creative approach to business.
Our most important advantage is creating opportunities for youh to display their talents, opportunities for person's professional self-realization within the processes of regionwide and worldwide significance. Our stidemt community shows active citizenship, patriotism, responsibility for its decisions. We are proud of our students, as they initiate challenging ideas and implement them in their projects.
I am certain that all Surgut State University graduates bear the necessity of neverending self-improvement in mind and know how to make their own success formula.
With special words of greeting I address our veterans! Your contribution in preservation and development of the best traditions of national higher school, which ensures our steady advancement, is one of immense value and significance!
Dear friends! Always remember that a journey of thousand miles begins with a single step. Use your skills and knowledge as best and efficient as you can! Let your lifepath be full of interesting events and SurGU's motto "To Think! To Act! To Achieve!" inspire your search for innovative ideas and their subsequent realization!
Best regards,
Sergei Kosenok, Surgut State University Rector
May 24, 2023 | Outstanding Students' Evening
As part of Surgut State University's 30th Anniversary, the Outstanding Students' Evening was held on May 24. Over 50 of the best University students were celebrated during the event. 22 of which were awarded with Honor Board Eligibility certificates. 17 more students were marked as the enterprising and successful, and also awarded with certificates. 30 other students were assigned awards in other nominations, dedicated to sport, volunteering, art, science and other activities.
The ceremony was combined with artistic performances and videos of congratulations.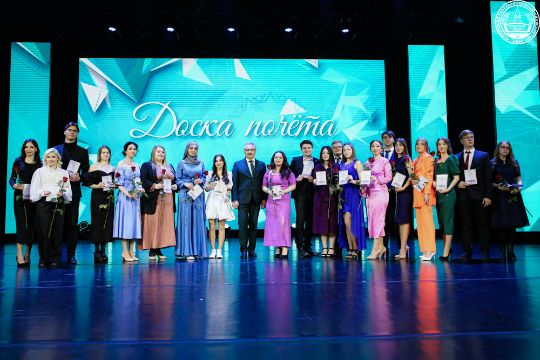 May 24, 2023 | Slavic Literacy Day Celebrated in SurGU. New Art Object Opened
May 24 saw students and academic staff of the University gather in front of the Main Building of SurGU to celebrate the Slavic Literacy and Culture Day. This holiday was set on May 24 to commemorate Christian saints Cyril and Methodius, the two brothers who evangelized the Slavs in the A.D. 863.
The celebration was held in the form of a traditional solemn gathering with congratulatory speeches, release of white pigeons and ceremonial march of all guests around the Main Building. However, the 2023 program included the opening of a new art object located right at the entrance to SurGU square. This art object titled Here Begins Your Future is a stylized direction post which displays directions and distances to Russia's different universities. It is meant to symbolize the starting point of any student's educational and career pathway.
May 20, 2023 | Foreign Students of SurGU at Scientific Conference
Seven Surgut State University students from India joined the 4th Higher School Development Perspectives international scientific and practical conference which took place on May 20, 2023 in Surgut branch of Tyumen Industrial Institute.
Curated by Foreign Language Department assisted professor Yelena Orekhova, students presented their research within the Topical Issues of Modern Education section. Their research papers considered the foreign students' adaptation in Russian university, as well as comparative analysis of Russian and Indian educational systems. Many other important topics were also discussed. The success of students' preformance was marked with certificates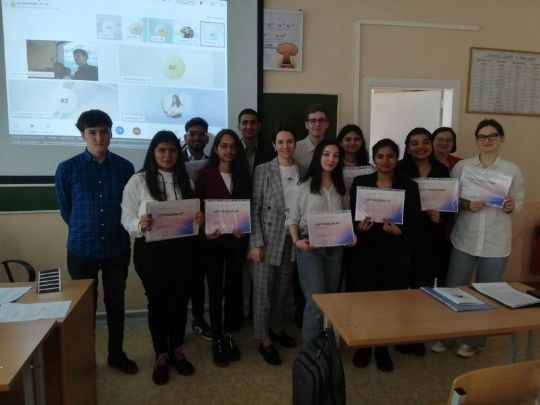 May 19 - 20, 2023 | New Trends in Nursing To Be Discussed In SURGUT UNIVERSITY
Surgut State University held the 3rd Regional scientific & practical conference "

Topical Issues of Today's Nursing

" which took place on May 19 and 20, 2023. The event was dedicated to the upcoming 30th Anniversary of Surgut State University and was curated by Yelena Bubovich, Candidate of Medical Sciences, assisted professor, head of SurGU Medical College.
Participants discussed up-to-date approaches to nursing and learned aboud MRI and CT scan contrast methods. They were also invited to visit different medical workshops hosted by Surgut Regional Clinical Hospital.
May 15, 2023 | Institute of Humanities and Sport celebrating 10th anniversary
Surgut State University's Institute of Humanities and Sport celebrated its 10th anniversary. The ceremony was held in University's Theater and opened with Mister SurGU 2023 Vladislav Apokin reporting on the Institute's achievements and results. Best professors were awarded with Certificates of Honor and thank-you letters from Khanty-Mansi Autonomous Okrug – Ugra Department of Education and Science. Students also were awarded by Institute's thank-you letters for their merit in science, studies and extracurricular activities. Event also featured performances presented by students and graduates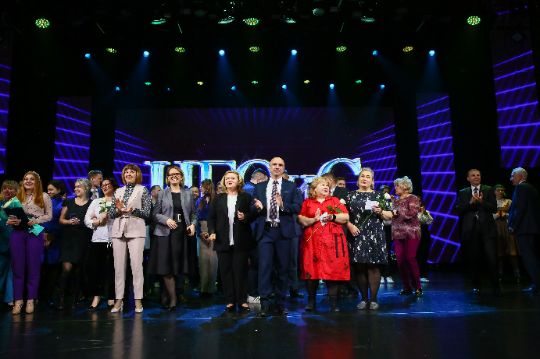 May 11, 2023 | Happy Birthday to Medical College
May 11 saw the 34th anniversary of the Surgut Medical College. Its history began with the Nursing program, and since then the college has grown significantly, in 2019 becoming a part of Surgut State University. Thus, the college has become one of the most prestigious educational organizations of Surgut and the region. Every year dozens of students graduate from the Medical College.
Thank-you letters were awarded to people who set the origins of the college. These people were noted for their professionalism and devotion to their mission. Ugra Department of Education and Science Certificate of Honor was awarded to Aza Rozhkova, Medical College's Vice Director for Educational Work.
May 11, 2023 | SurGU Graduate To Open Game Production Studio
Daniil Chebotkov, a 2018 Surgut State University graduate, is about to set up a video game publishing company. The main objective of it is to establish a video game publisher – an agency which will pitch and curate video game projects created by its contractors from gamedev companies all across Russia. Daniil Chebotkov plans to use the newest artificial intelligence systems to facilitate the ease and lower the costs of game development.
The project was already sent to a student start-ups contest run by Innovation Assistance Fund. It will be presented by the end of May 2023, and is one from over 3,600 projects to be featured. 1,500 winners will be eligible to apply for a 1 million rouble grant for future development of the start-up project.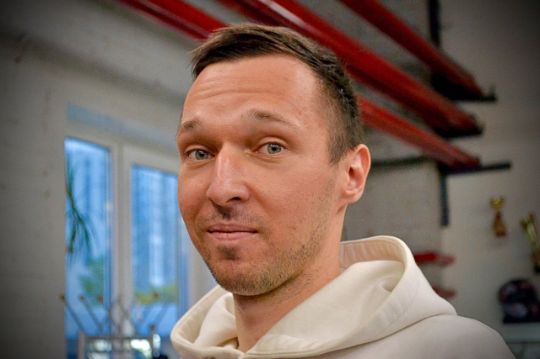 Apr 28, 2022 | Night in the University
Hundreds of schoo;l students have attended an unusual Open Day event, which was held in the University's Scientific Library on April 28. The "Night in the University", as the event was dubbed, would be featured in the style of a pyjama party, so a number of guests attended it wearing corresponding outfits. This was the first such event ever hosted within the University.
The activities presented featured a quest dedicated to introducing guests to SurGU institutes and educational programs, as well as an entertainment cluster with air hockey, tabletop and video games. There was also a stand-up performance, during which student scientists and entrepreneurs would share their histories of success.
During the "Night in the University", guests were able to earn prize points for participating in activities, which they could exchange for SurGU-branded items
Apr 24 - 28, 2023 | SurGU Students Prized in Eurasian Economics Youth Forum
April 24 to 28 saw the 13th Eurasian Economics Youth Forum take place in the city of Yekaterinburg, Russia. During the forum, participants were able to visit open lectures and congresses of innovators in different fields ranging from business management to engineering. Students' projects were presented during six congresses.
As a result, five students of Surgut State University were rewarded as the finalists of the forum. Teams led by Anna Antipina, Alexandra Filchak and Yulia Chubachuk took the first, second and third places respectively in an applied science contest "Financial Foresight". The International Competition of Youth Business Projects was won by Polina Sharipova and Ilya Makarenko with their project being the concept of shaped cotton candy sale point.
We wish the young and talented ones good luck on their path to success, and to keep on achieving their goals!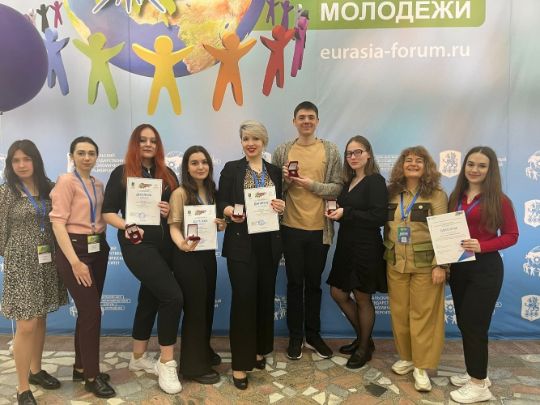 Apr 20, 2023 | Social Start-Up projects Acceleration Program launched
Two-month business acceleration program Tochka otshcheta. Socio (Starting Point. Socio) was launched in Surgut State University on April 20. Within two following months students will develop their socially significant start-up projects, best of which will gain funding from industrial partners for their developments. The final presentation would take place in June 2023.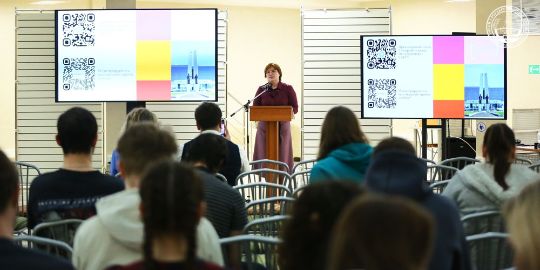 Apr 14 - 17, 2023 | SurGU GameDev hackathon
Within three days students from both our University and schools from all around the city took part in a video game development hackathon organized in partnership with IThub Games studio. 18 teams competed within three different cases, two of which were based on a 2018 movie Tobol, with the remaining case being the drone simulator.
Intense coding sessions took place in the Scientific Library atrium in SurGU Main Building. The end of the hackathon witnessed 11 teams taking the prizes. All participants were awarded with diplomas and souvenirs. The winners' projects (games and prototypes) will be presented on Surgut State University's 30th Anniversary on May 26 for guests to test them.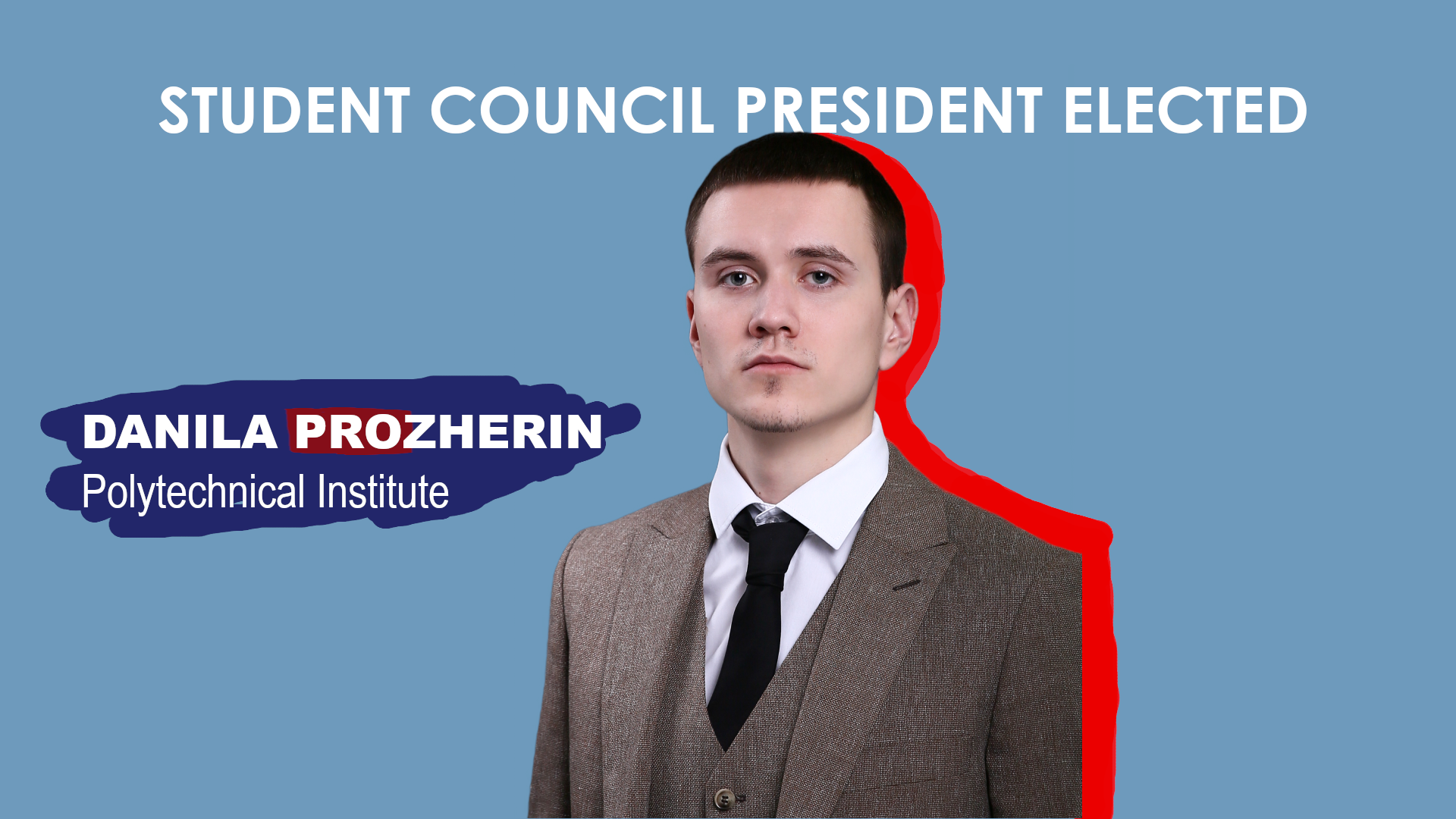 Apr 13, 2023 | Student Council President Elected
Voting results show that Danila Prozherin, student of Polytrchnical Institute was elected as the new Student Council President. gaining 33.5% votes. Results of the election were announced on April 12 in Surgut State University Theater. Mr. Prozherin will also enter the Academic Council and Board of Trustees of SurGU, as the Student Council President takes part in the university's life at the highest level
Apr 12, 2023 | Student Council President election Day
April 12 saw the President of SurGU Student Council being elected university-wide. Four candidates would compete for the title to lead the Student Council for the next two years. Apart from this, voting was held to elect the heads of institutes' and Medical College's student committee presidents and dormitories' presidents.
Polling stations were open within all University buildings, by dormitories' security stations and in Medical College. Results are yet to be announced April 13 at 16:00 (4:00 PM) UTC +5. Stay tuned.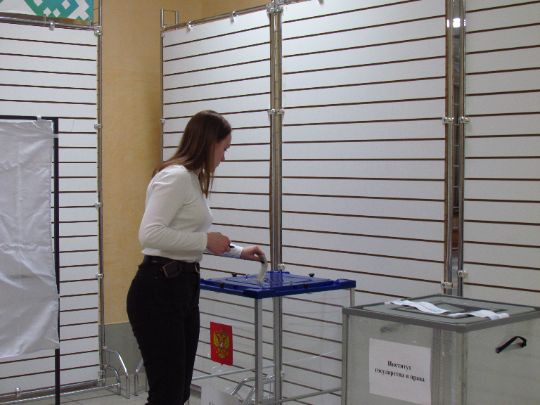 Apr 7, 2023 | Surgu Comes to EXPO 2023
From April 5 to April 7, 2023, Surgut State University took part in the 22nd international exhibition Education & Career EXPO 2023in Yerevan, Armenia. University was presented by Olga Sharameyeva,Institute of Economy and Management director, and Olga Trukhina, Head of Admission Department.
Main accent during the exhibit was made on presenting the University's scientific magazines, as well as the opportunities for the academic and professional growth and development SurGU may offer. Visitors of the EXPO 2023would find out all necessary information about the institutes and the Medical College, and both school students and their parents were informed about the educational programs provided by SurGU. The platforms like this allow the universities to exchange experience and showcase achievements, thus facilitating the mutually beneficial international cooperation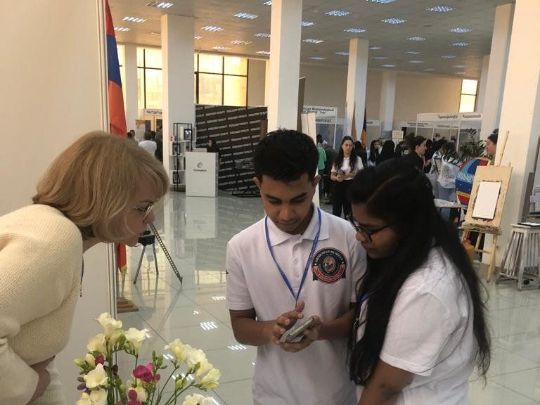 APR 5, 2021 | GEORGY NAZIN SCIENTIFIC CONFERENCE, DAY 2
Day 2 of the 27th annual Georgy Nazin regional students' scientific conference "Science at 60th Parallel" was marked with roundtable discussions, open lectures and workshops for students and employees. Events scale grew larger, as the platforms included not only University buildings, but also Sorgut Polyclinic No, 5 and the newly opened perinatal center on Proletarsky Avenue. Roundtable discussions involved numerous topics and spanned across different scientific disciplines, from law and sports to medicine and psychology. Discussion topics varied from sustainable social and economic development and formation of civil society in modern Russia to perspectives of sports industry in the region and prevention of medical specialists' professional burnout

APR 4, 2023 | 27TH OPEN STUDENTS' SCIENTIFIC CONFERENCE STARTED
27th annual Georgy Nazin regional students' scientific conference "Science at 60th Parallel" opened in Surgut State University Theater on April 4, 2023. Guests attending the opening ceremony were shown the archival video of an interview with SurGU's first rector Georgy Nazin (1940 – 2009), whose name the conference carries and to whose birthday (April 4) the event is dedicated.
During the opening ceremony, the plenary session was held, which saw scientific papers being reported on. Two students of Polytechnic Institute, for example, presented the medical mobile apps developed by them, which would assist people with diabetes. Later, the conference continued within themed sections.

Mar 28, 2023 | SurGU Esports team First in Ugra
March 26, 2023 saw the regional stage of Russian National Students Esports League take place in Barsovo, Surgutskiy District. The Universoty was presented by 13 players competing in five different disciplines: Dota 2, Counter-Strike, StarCraft, Clash Royale and Hearthstone. Opponents were presented by Surgut State Pedagogical University and Surgut Institute of Economy, Management and Law.
As a result, SurGU players have won the tournament, outperforming the opponents. Next stage of the tournament will be held in online format April to June 2023.
Mar 27, 2023 | University basketball team wins Ural Federal District championship
Surgut State University basketball team UgraBasketwon the Ural Federal District championship among male teams. Playing against the Stary Sobol' basketball club from Nizhny Tagil, our university team has earned its first place in the tournament. The final stage of the competition took place in Druzhbasports center March 24 to 26.
Next tournament up the team's sleeve is Student Basketball Association league. As of now, UgraBasket has made it through 1/16 of the league, and is now awaiting next matches.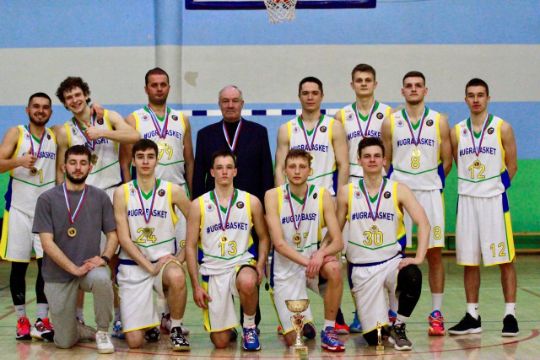 Mar 23, 2023 | 25th Anniversary Spring Student Festival hosted
Annual students' talent festival SurGU Style Spring was hosted in the University theater for 25th time, with hundreds of viewers of audience being present at the gala on March 23.
Gala featured the best performances presented on stage. From vocal performance to fashion design show – students proved they can be creative in all senses. Best performances were awarded with valuable prizes, alongside with works featured in non-scenic nominations, such as video, art and media.
The first SurGU Style Spring was hosted in the University in 1998, and since then over 16,000 students took part in the festival. Many participants and winners later found themselves in show industry, on the big stage and national TV shows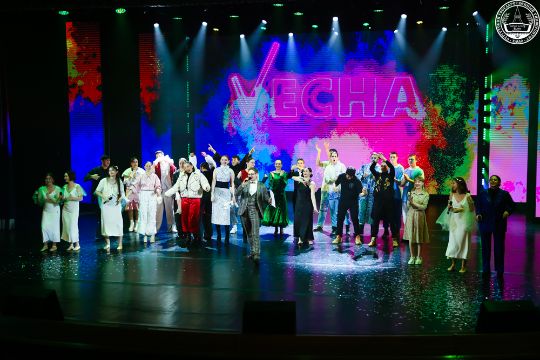 Mar 17, 2023 | Institute of Economy and Management hosts Open Day
Surgut State University's Institute of Economy and Management hosted an Open Day for school students of grades 9 to 11. Guests were invited to take part in a quest, during which they would learn about the Institute and its education programs.
Each of the seven stages of the quest presented its own educational program. Potential enrollees would solve logical puzzles and ethical tasks, breaking codes and resolving a modeled conflict. They also were told about the opportunities University grants to its students. The Open Day concluded with a tea party where guests were able to ask their questions to the head of the Institute of Economy and Management.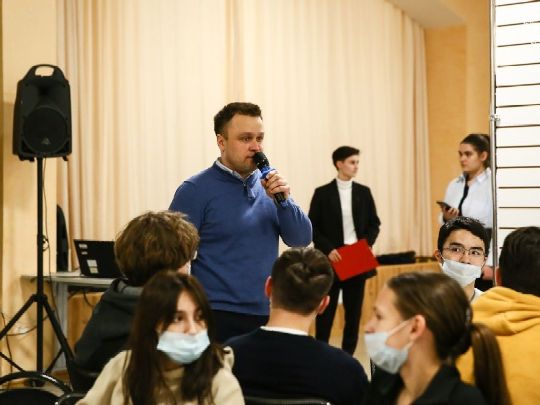 Mar 10, 2023 | Miss SurGU 2023 contest held, winner defined
Annual contest of intelligence, beauty, elegance and sport Miss SurGU 2023 (also Beauty of SurGU 2023) was held in Surgut State University, witnessing eight participants competing for the title. Young ladies were challenged to not only partake in sportive and artistic competitions, but also to showcase their wits, intelligence and modeling skills, as one of the challenges was set around the gown design.
The main prize and the title of Miss SurGU 2023 went to Polina Andreyeva, student of the Institute of State and Law. Angelina Semenkova from Institute of Humanities and Sport was nominated as Vice Miss SurGU 2023 (runner-up). Online voting was won by Anastasiya Yegorova from Institute of Economy and Management. All winners and participants were rewarded with valuable prizes.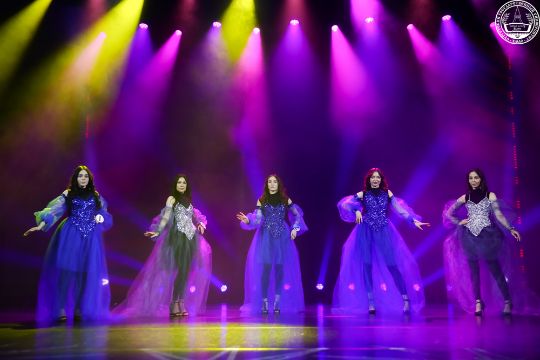 Mar 8, 2023 | Happy International Women's Day!
We heartily wish all ladies of the University a happy International Women's Day!
We at Surgut State University are proud of success and achievements of our talented and ambitious female students, who can easily turn ideas into bright events and fruitful projects. Our glorious ladies within the staff, professors and scientists included, build the creative atmosphere necessary for the youth's education and successfully resolve all the tasks aimed at higher education improvement. All this is possible thanks to their operational mindset.
We wish all our women good health and high spirits, happiness and inspiration. May the International Women's Day bring pleasant impressions and memorable moments!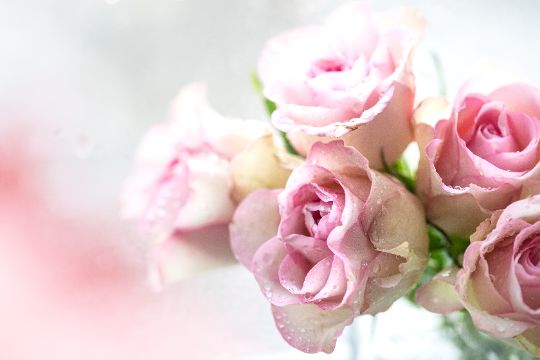 Mar 1, 2023 | Mister SurGU 2023 defined
Surgut Univesity Theater held the annual contest of courage and talent Mister SurGU 2023, with seven participants competing for the title. Young men showcased not only their achievements in sports, but also intelligence, wits and artistic talents, performing on stage and answering the jury's questions.
The main prize and the title of Mister SurGU 2023 were awarded to Vladislav Apokin, student of the Institute of Humanities and Sport. Andrei Sidenko from Institute of Nature and Technical Sciences was nominated as Vice Mister SurGU 2023 (runner-up). Online voting was won by Elmurza Kalabzarov, also from Institute of Nature and Technical Sciences. All winners and participants were rewarded with valuable prizes.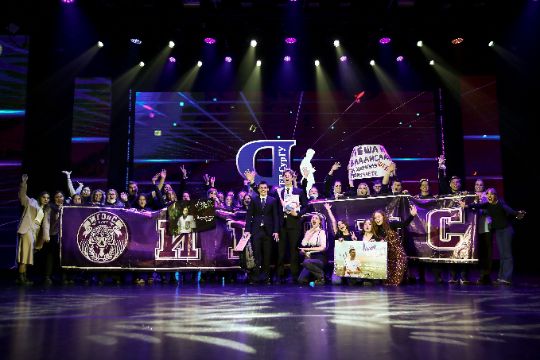 Feb 25, 2023 | Conference on Hygiene Held in SurGU
February 25 saw medical students and specialists gathering to discuss methodology and discoveries in the field of hygiene. Guests were introduced to the reports on history of hygienic science both in the world and in Russia. The basis of Russian hygienistics was laid by a famed Soviet researcher Galina Serdyukovskaya (1921 – 2004), Doctor of Medicine and USSR Academy of Medical Science member. Hygienic knowledge, as emphasized by SurGU Medical Instiute assistant professor Viktoria Pavlovskaya, is important to prevent the devastating pandemics, as hygiene and history often walk together. 
Hygiene as a preventive medical discipline began developing in the ancient times, and would evolve within the course of history, suggesting more and more advanced methods of diseases prevention and environment management, which helps keep a person healthy. Many countries implement hygienic research in their legal documents and laws accordingly. The first documented experience of implementing hygienic standards dates back to Ancient India, where the first laws on hygiene were included in the Manu code of laws.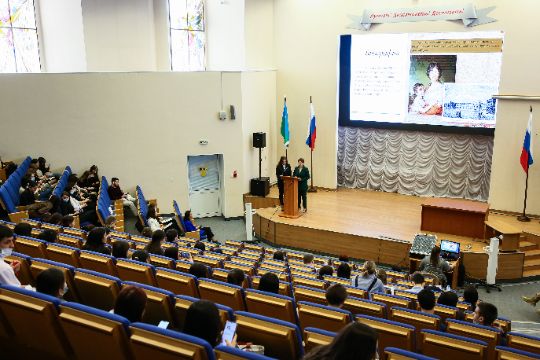 Feb 21, 2023 | Hereditary diseases discussed in Surgut University
A conference on hereditary lung diseases was held in Surgut State University on Fbruary 16 to 18, supported by Khanty-Mansi Autonomous Okrug - Ugra Healthcare Department and other regional and national organizations. Major attention was paid to cystic fibrosis and other hereditary lung diseases.
Three-day conference featured symposiums and roundtable sessions for participants, as well as individual medical consultations for patients with cystic fibrosis. During the sessions, new methods of diagnostics were analyzed, and suggested for national-wide use, as cystic fibrosis, if not diagnosed in time, and with no therapy administered, can be highly lethal. 
Feb 8, 2023 | Happy Russian National Science Day!
Every year on February 8, Surgut State University celebrates Russian National Science Day to mark the significance of science in our lives and to acknowledge the achievements of scholars.
Program of the day included the job fair attended by representatives of enterprises in the fields of fuel and power industry, media, transportation and public sector. The Boiling Point (Tochka Kipenya) business space hosted a number of lectures on business and projects run by University.
The most important part of the celebration was the Ball of Science, held within the atrium of the Scientific Library. The Ball of Science is a traditional solemn event held annually on the Science Day, which also concludes the celebration. At the start of the dance party, young ladies and gentlemen were offered the etiquette master class, after which eight couples would compete for the title of the Ball's King and Queen. This very title was given to Nadezhda Obukhova and Sergei Obukhov, both are professors of physical education. 
At the conclusion of the event, as per tradition, three wishes made by participating students before the Ball start were drawn by the Rector Sergei Kosenok to be later fulfilled. These were: a photo of the Rector together with a students' group (wished by Anastasiya Yegorova), summer vacation with top 20 best students (wished by Yevgeny Mikhailov), and Sherbek Rustamov wished good luck and health to all the guests.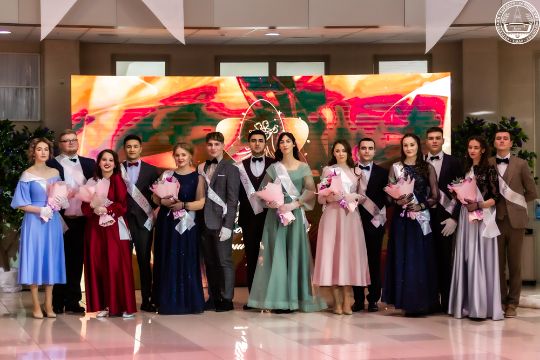 Jan 30, 2023 | Indian Embassy Minister of Education visited SurGU
On January 30, 2023, Surgut State University was officially visited by a mission from India, led by the Indian Embassy in Russia Minister of Education Shri Subrata Das and MediCare Global Education director Jitendra Kumar.
During the visit, Shri Subrata Das met with Oleg Meling, Vice Head of International Cooperation Department for the Khanty-Mansi Autonomous Okrug – Ugra Public and External Relations and Youth Politics Department, as well as Surgut State University higher management. Topics under discussion included diplomatic cooperation and scientific exchange between Russia and India. Sergei Kosenok, the Rector of Surgut State University, acknowledged the necessity of setting and achieving the virtuous goals, such as training new medical specialists. Director of Medical Institute Lyudmila Kovalenko who marked the extensive opportunities for medical education of foreign students. According to her words, the foreign students "contribute to the future of Russia and India".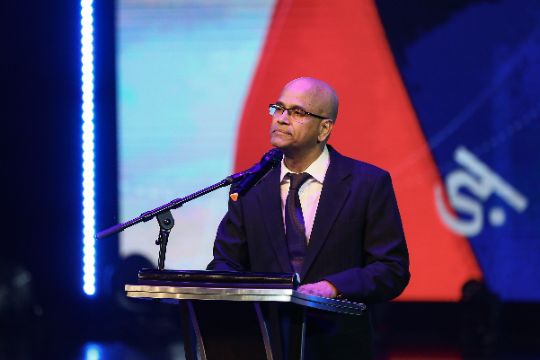 Jan 27, 2023 | Tabletop Games Festival
The last Friday of January 2023 saw the Grand Tabletop Games Festival Fishka take place in the university. Over 30 students gathered to have fun and play eight different tabletop games together under the supervision of experienced game practitioners. Eight different tabletop games were provided, including Mafia, Codenames, Imaginarium and many more.
The festival was divided into two rounds, with a coffee break in between. At the end of each play round the winners would be awarded with tokens, which then could be exchanged for various merch insigned with SurGU's 30th Anniversary logo, such as USB drives, notebooks, pens and more.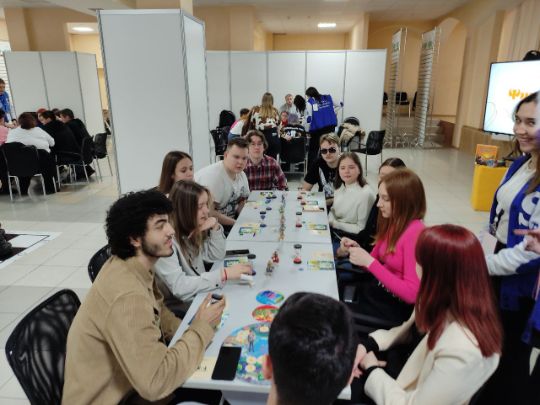 Jan 26, 2023 | Republic Day of India celebrated in SurGU
A grand festival was held within the university walls on January 26. All students from India came together to celebrate the Republic Day, India's national holiday.
This year, the Republic Day is celebrated for the 74th time. The day of January 26 was set as a holiday to mark the adoption of the Constitution of India, which was adopted on January 26, 1950. Here, away from home, Indian students have come together for a festival. The program started with a history of the Republic Day, followed by patriotic songs and folk dances performed by the students.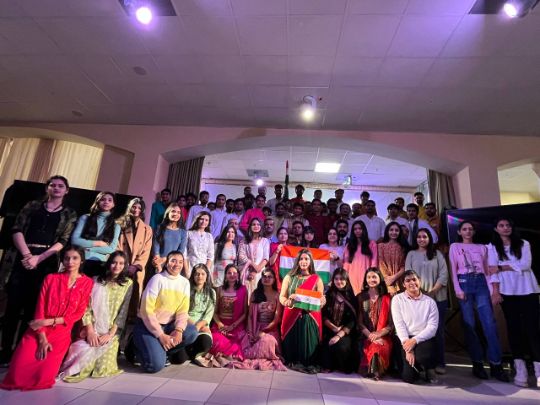 Jan 25, 2023 | Surgut University Celebrates Students' Day
The Students' Day is celebrated in Russia nationwide every year on January 25. Surgut State University is no exception to this tradition. The celebration started with  featured a number of events to mark the significance of the day. Right in the lobby, every student entering the university were treated to a warm fenberry tea.
One such event was Tea with a Rector. There, the Rector of Surgut State University Sergei Kosenok and the university's Vice Rectors have gathered at a table with the most active students to acknowledge their achievements and to discuss the latest questions. All students were wished good luck and success during their studies and exams.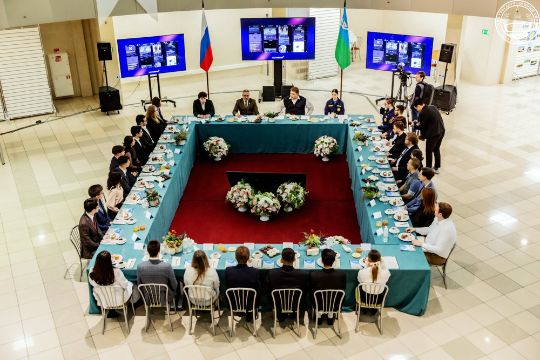 Jan 23, 2023 | Esports Tournament in SurGU
To celebrate the Day of Russian Students, Surgut State University hosted an esports tournament within its walls. Three most poular competitive console games, FIFA '22, UFC 4 and Mortal Kombat X were chosen by the tournament hosts, and the event itself saw over 40 participants willing to compete and show off their skill. Each discipline was presented as a "best-of-1" competition ladder, with only one winner in each. Winners were awarded with gaming headsets as prizes, and the amount of fun was rather overwhelming. It is important to note that in November 2022 SurGU hosted another tournament, this time it was centered around Counter-Strike: Global Offensive, a team-based tactical first-person shooter. Tournament hosts believe that our university may become a platform for new esports stars to rise and shine.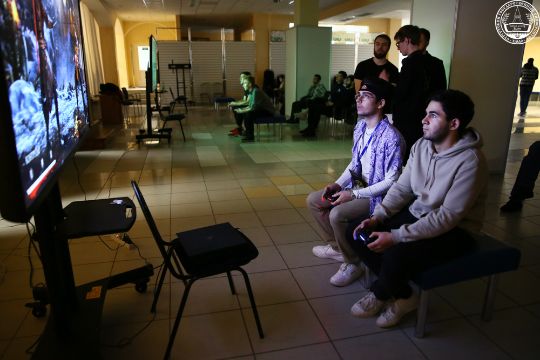 Dec 29, 2022 | SurGU Brings New Year Miracles
On December 29, 2022, SurGU students and Youth Initiatives Department employees packed and distributed sweet gifts. Out of 64 sweet gifts, 15 were given to Aprel Kids and Family Supportive Center. Apart from that, students and employees presented an entertainment program for the children fostered in the Center. The remaining gifts were distributed to Surgut Geriatric Center and to the children of conscripts.
All students who took part in the event were awarded with the SurGU's Father Frost badges, which marks their contribution in delivery of the New Year miracle to the families of the city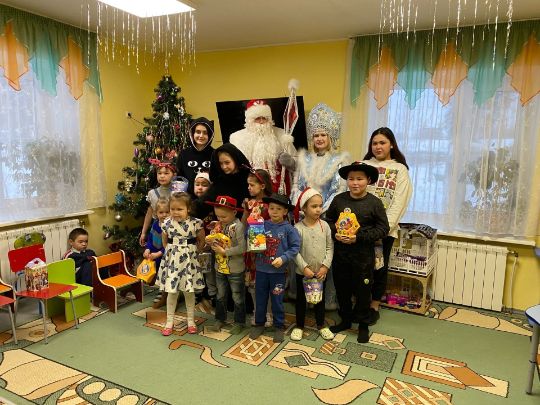 Dec 24, 2022 | Open Day in Surgut State University
December 24, 2022 saw one of the most significant and grandiose events in the University's life, that being the Open Day. For the first time in two years the event was held offline, having over 300 visitors from different schools of Surgut and Surgut Area. All six institutes, as well as Medical College, were presented at the event, aimed at promoting the Surgut State University to the potential enrollees. Guests would take part in contests and activities organized by the institutes' representatives, as well as get introduced to their prospective tutors and meet new people brought together.
Should you get interested in enrollment, visit go.sugru.ru to find out more about our programs or see the respective sections on this website.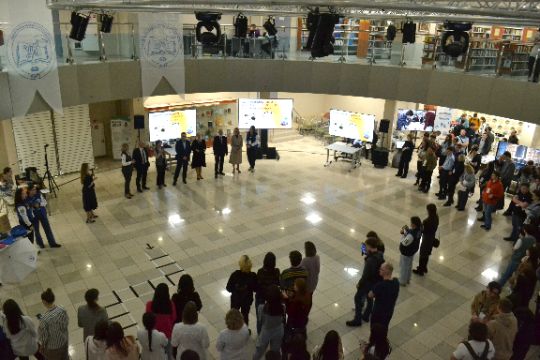 Dec 9, 2022 | Best Academic Group Defined
On December 9, 2022 Surgut State University Theater hosted the annual 2022 Best Academic Group contest. Six groups from four institutes and Medical College competed, alongside with their curators. Participants presented their artistic performances, while their curators showed off their video presentations and took the "curator exam" as part of 2022 Best Curator contest. The winner of this contest is Lesya Ganeyeva, the curator of Group # 213-01 from the Institute of Humanities and Sport. The 2022 Best Academic Group title was awarded to Group # 402-92 from the Institute of Economy and Management. The group won a grand prix of the contest, that being a one-week tour to Saint Petersburg.